RedLegends Tars Tarkas
I was honoured by Cathy & Kirk Smith, when I was given the Pick Male of their Teifenbach's Calendar Girl and Ch. Noblegazes Warlock Spells Hocus Litter,
in March of 2004.
Tars Tarkas gained his C.F.C. Championship at age 2.
Tarkas is a Large Male with great Bone and a Magnificent Head.
He has a loving and gentle character.
His weight at 4 years is 148 Pounds.
He has been in the Rare Breed Circuit since the age of 3 months
and has been doing extremely well.
He is a registered Stud,
CFC & UKC Registered
Certified Therapy Dog
C.G.C, Obedience Advanced Certified
Tarkas was given his name by my Husband, an Edgar Rice Burrows Fan. Tars Tarkas is a character in the Martian Chronicles. A huge and intimidating looking Warrior with a big soft heart. We thought this was an excellent name for our newest boy, as we felt the character aptly fit his appearance and personality.
Tarkas is is now 9 years Old and still going strong.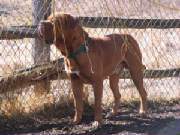 This is Regal Rouge's Arya Winterfell aka Cadbury, she was/is the pick female from our 2012 Litter.
Dam:- RedLegends Saphira Rouge
Sire:- Heimer's Honore De Cremont
Her lines are littered with Champions from both Europe & North America.
Our New Girl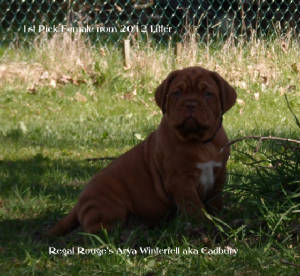 From Our 2012 Litter
We said goodbye to Teal'C in July 2012 he was 12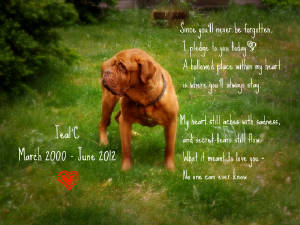 Our Beloved Teal'C son of Red Sonja & Elmo Momachello